Librarian
Jump to navigation
Jump to search
Librarian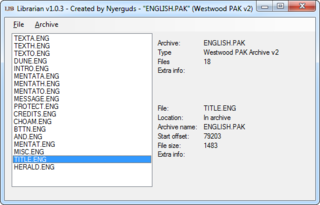 Librarian is a simple game archive management tool created by Nyerguds.
It was originally created for the Mythos LIB archives. Later, it got merged with a small tool to dump the contents of Sierra/Dynamix Resource files, and evolved into a more general tool to open and edit archives.
Platform and license
The program is written in C# on the .Net framework v3.5. The code is released under the WTF Public License, meaning it can be used without restriction.
Supported types
As of v1.0.4, the supported types are: