SBTimbre
Jump to navigation
Jump to search
SBTimbre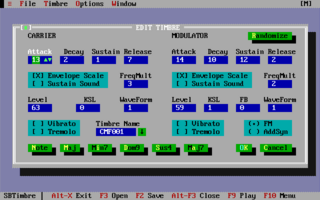 SBTimbre is a DOS program for creating instruments on the Ad Lib/SoundBlaster OPL chip.
It works with instrument banks in IBK Format, and can import instruments from files in CMF Format and BNK Format (Ad Lib) as well. It can also extract single instruments and save them in SBI Format, as well as write instruments back to .CMF files.
SBTimbre can be used to assist in the creation of IMF files.