Might and Magic Book One: The Secret of the Inner Sanctum
Jump to navigation
Jump to search
Might and Magic Book One: The Secret of the Inner Sanctum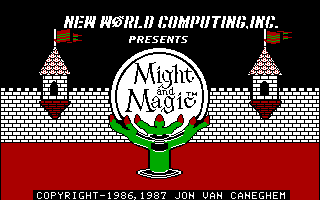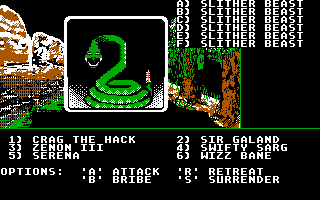 | | |
| --- | --- |
| Levels? | Not editable |
| Tiles? | Editable |
| Sprites? | Editable |
| Fullscreen? | Editable |
| Sound? | Not editable |
| Music? | Not editable |
| Text? | Editable |
| Story/cutscenes? | Editable |
| UI/menus? | Not editable |
| Demos? | N/A |
Might and Magic Book One is the first game in the storied Might and Magic franchise created by Jon Van Caneghem and his development studio New World Computing. The game was originally released in 1986 for the Apple II but this article will focus on the 1987 DOS port.
Obtaining the game
The full version of this game is available DRM-free on GOG.com as part of the Might and Magic 6-pack Limited Edition.
File formats
The following file formats are used by this game.
mm.exe
The game executable, mm.exe, contains the following data.
Related links
A graphics overhaul mod by TheDrakeRaider using tools created by lagdotcom has been released on dungeoncrawlers.org