Duke Nukem
Jump to navigation
Jump to search

Duke Nukem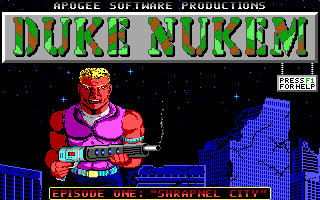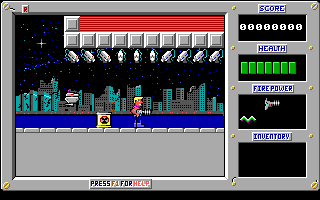 | | |
| --- | --- |
| Levels? | Editable |
| Tiles? | Editable |
| Sprites? | Editable |
| Fullscreen? | Editable |
| Sound? | Editable |
| Music? | N/A |
| Text? | Not editable |
| Story/cutscenes? | Not editable |
| UI/menus? | Not editable |
| Demos? | Unknown |
Apogee's first big success was Duke Nukum, a cool, fast action platform game with the cool, fast action hero Duke Nukem. Because of the success of the first game, many sequels followed. In the second sequel, Duke Nukem 3D, the main attraction was the attitude of the character, with every gunfight he had a new catch phrase. In the first Duke Nukem game however, the best feature was that everything could be shot. Not just the enemies fell victim to Duke's destructiveness, but also walls, laser beams (no need to search for switches), chests, health items (fry that chicken) and valuable objects.
Tools
The following tools are able to work with this game.
There are more editors on the Duke Central downloads page.
File formats
The following file formats are used by this game.
Filename
Format
Details
worldalX.dnY
Duke 1 Level Format
Game levels. The X in the filename is the (hexadecimal) level number and Y is the episode
anim*.dn?
back*.dn?
border.dn?
drop*.dn?
font*.dn?
man*.dn?
numbers.dn?
object*.dn?
solid*.dn?
ProGraphx Toolbox tileset format
Tilesets
badguy.dn?
credits.dn?
dn.dn?
duke.dn?
end.dn?
Full-screen planar EGA
Full screen graphics (all files are 32kB)
duke1.dn?
duke1-b.dn?
Inverse Frequency Sound format
PC speaker sound effects
savedX.dn?
Duke 1 Savegame Format
Saved games, where X is the save number (1 to 9) or "t" for the temporary save
my_demo.dn?
userdemo.dn?
Duke 1 Demo Format
Previously recorded demos
highs.dn?
ASCII text (DOS/CR+LF)
High scores in ASCII text (score immediately followed by name then <CR><LF>, contains exactly 10 entries even though only 8 entries are shown in the game)
keys.dn?
N/A
Keyboard scancodes, one byte for each of up, down, left, right, fire, jump, in that order.
speed.dn?
INT16LE
Stores an INT16LE value defining the game's speed. A value of 0 means 16 frames per second, larger values slow the game down. Negative values can increase the game's speed, but the original game only uses values from 0 to 9 (inclusive).
dn?.exe
MZ Executable, LZEXE compressed
If unpacked with UNLZEXE, the story and other text messages used by the game can be located and hex edited as ASCII text.
External links